Feet in the sand
You can get to the Bloemendaal beach in ten minutes by car (or by bike). You can also go a little farther to Zandvoort.
Bloemendaal: Beachclub Bloomingdale
Relaxing on the beach on one of the lounge benches with thick pillows, a delicious cocktail in hand, dining, and then having drinks and dancing to the infectious beats of the resident DJs.
Bloemendaal: Bloomingdale
Relaxen op het strand in een van de loungebanken met dikke kussens, een heerlijke cocktail, dineren en daarna gezellig borrelen en dansen op de aanstekelijke beats van de resident DJ's.
Bloemendaal: Beachclub San Blas
San Blas is an all-year-round beach pavilion where you can experience the outdoor feeling both in the summer and the winter. In the summer, the large glass sliding doors are all open. In the winter, you can warm up inside after a long walk on the beach.
Bloemendaal: Speeltuin bij restaurant Gestrand op camping De Lakens
Een speeltuin waar wij enórm fan van zijn is die van Restaurant Gestand op camping de Lakens in Bloemendaal. Zowel restaurant als speeltuin zijn ook toegankelijk voor mensen die niet op de camping logeren! De kinderen kunnen hier heerlijk spelen in het zand en met water. Ook klimmen en glijden behoort tot de mogelijkheden met de 20 meter lange glijbaan. De ouders kijken vanaf de enorme veranda of gewoon vanaf de picknicktafels met de voetjes in het zand van de speeltuin zelf.
Zandvoort: Beachclub Tijn Akersloot
A beach bar with a relaxed atmosphere, a tasty kitchen, and a beautiful view. Tijn is also open 365 days a year. With large terraces and an outdoor bar for warm days and a cozy fireplace in winter.
Zandvoort: Beachclub Hippie Fish
Feet in the sand, fire baskets on, and fish straight from the grill; Hippie Fish ensures the ultimate beach experience! One of our personal favourites!
Zandvoort: Beachclub Ajuma
At Ajuma, you can fully submerge yourself in Asian ambiance.
Tip: walk here via the beach and kiss each other under the Japanese Torii: it brings good luck!
Zandvoort: Beachcub Ubuntu
A Beach House warmly decorated with fireplace, lounge, and doors opening to the sea.
You can always drop by for lunch and dinner or a gin tonic with a snack by the fire.
Zandvoort: Beachclub Ahoi
This pavilion is situated next to the largest playground on the Dutch coast. They also offer several arrangements in the themes of piracy, the sea, and the beach.
Haarlem eat & drink
There's a lot to do near Sea and the City, for young and old. Roos would love to give you some tips. She knows the area of Haarlem and Amsterdam very well and can point you exactly to all the fun and inspiring places to go.
Bij Babette
For the most delicious coffee and cake, you need to go to Bij Babette. Delicious cakes, scones, brownies, and pies are beautifully arranged. Added to this, you can choose from almost a hundred types of tea and you will really feel the urge to enter this beautiful, pink corner building in the Kruisstraat. Owner Sarah welcomes every customer with a heartfelt 'welcome darling' or 'hello, my dear!'
By Lima
By Lima in the Zijlstraat everything is possible: breakfast, lunch, having a cup of coffee, high tea, even afternoon drinks. It also looks amazing and the menu is delicious and honest. Moreover, in summer, it has a really nice place to sit outside!
Cafe Colette
For dinner there is on the Oude Groenmarkt: Cafe Colette, a French bistro with a large outdoor terrace and beautiful furniture. The oysters are always fresh here and the wines come from good houses. The employees are professional and very friendly, you'll immediately feel welcome. A timely reservation is recommended.
De Bokkedoorns
If you want true culinary enjoyment, 2 Michelin-star restaurant 'De Bokkedoorns' is a ten-minute bike ride away in the dunes. Come by for a culinary adventure of the highest quality!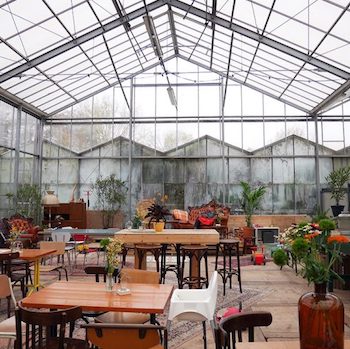 Kweekcafe
The kweektuin is a lot of fun with its nature playground and goats. The huge greenhouse next to it houses the Kweekcafe. The greenhouse also has a large play area with a lot of toys for the kids.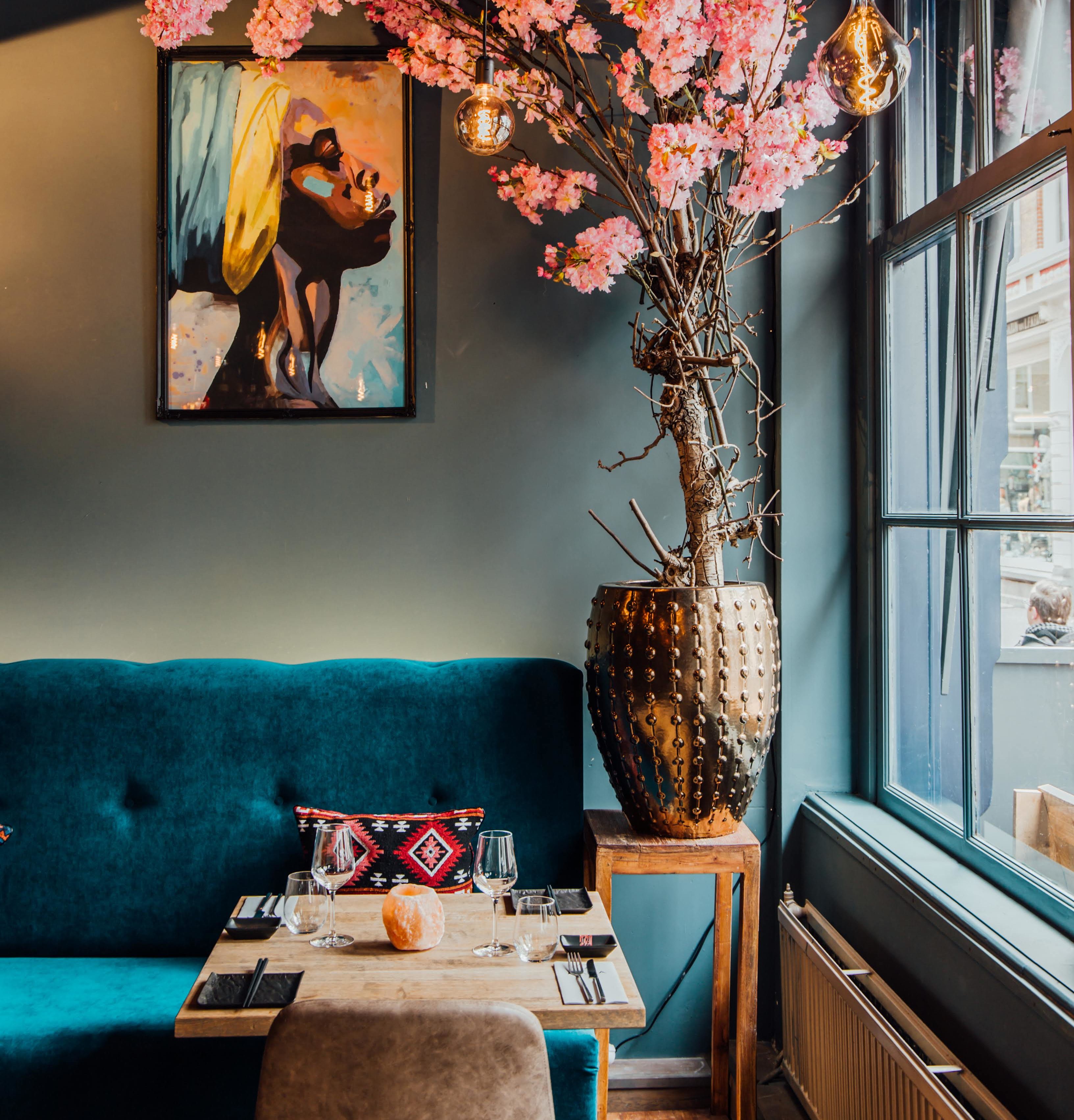 Maita
A delicious fusion kitchen with Peruvian and Japanese influences. Peruvian ingredients with Japanese techniques create the most delicious dishes. This is also a great place to come for delicious sushi! Truly our favourite restaurant in town!
Other great restaurants
Other great places for lunch, coffee, snacks, and dinner are:
Native, Fortuyn, Five Brothers Fat, Frenchie, The Governor, Olivijn, Rooftop De Dakkas, Bistrobar Indonesia, Fishbar Monk, Dodici, citybeach De Oerkap and Frisk aan het Spaarne.
With the kids
It's great fun to go to the Kweekcafe with the kids, but Meneer Paprika is also a lot of fun.
Meneer Paprika is the largest toy store in Haarlem. While you enjoy a delicious cup of coffee and homemade cake, the little ones play with the large 'Thomas the tank engine table' and duplo.
Haarlem shopping
Shopaholics can get anything their heart desires in Haarlem. You can get to the city center in a couple of minutes by bike or by foot. There you'll find nice shops, coffee houses, and various museums, such as the Frans Hals museum and Teylers museum (also fun for children). Recommendations are the Kleine Houtstraat, Schagchelstraat, and Warmoesstraat. These streets follow from the Grote Markt, with the amazing Sint Bavokerk. Here you will find the best shops, such as Foof, Number Nine, Never grow up, ByNouck Olivia&Kate, My Deer Art Shop, Ottomania. In the Grote Houtstraat you can find the awesome shop Jansje, where you can also go for a delicious lunch.
An enjoyable market is held on the Grote Markt, which takes place every Monday and Saturday. The Botermarkt is on Wednesday, Friday, and Saturday.
What else can you do in the vicinity?
Although the name is Sea and the City, there is a lot more to do in the vicinity. Feel free to ask us for extra tips during your stay!
Hiking & biking through the woods
The cottage is surrounded by hiking, cycling, and mountain biking paths. If you go by bike, for instance, you can get to nature area Zuid-Kennermerland in ten minutes. Elswout is almost a fairytale. With the Orangerie estate and romantic gazebos, winding paths and streams, and trees that are over 250 years old. A lovely place for a relaxed walk and an extensive picnic in the shade or a break at the Duincafe in the visitors center. At Kraantje Lek, you can enjoy the most delicious Dutch crepes. There is a recently renovated playground which already has proven to be very popular amongst the young ones!. Additionally, the Wed is a beautiful place to go with the kids. It's a great place to go swimming and play in the dunes.
Daytrip to Amsterdam
You can be in the heart of Amsterdam in fifteen minutes by train.
From the train station, you can reach everything on foot, but you can also get a rental bike or hop on a tram.
There are various museums you can visit, such as the Rijksmuseum, Van Gogh Museum, National Maritime Museum, and Anne Frank House.
Many neighborhoods in Amsterdam are lovely to walk through and discover many restaurants and lovely shops.
Recommendations are the Nine Streets in the Jordaan canal district, the Utrechtsestraat, and the Pijp.
Blowing off steam at Linnaeushof
Europe's largest playground Linnaeushof is great for kids.
It's even fun for the smallest children! With indoor and outdoor attractions.
Remember to bring swimwear when the weather is nice.
Open from March until October.
With bad weather, you can also always go to Monkey Town in Haarlem. The indoor playground paradise for children in the ages 1 through 12.
Looking at monkeys
There's a hidden gem not everyone has found yet in the center of Haarlem Noord. Artisklas started in the sixties and has recently really began expanding. You can see animals like racoons, skunks, ostriches, arctic foxes, porcupines, etc.
Artisklas is only open on Saturdays and Sundays.
You can also go on to the oldest and most beautiful zoo of the Netherlands: Artis in Amsterdam, which is open throughout the year.
Climbing trees together
At the Kweektuin on the Kleverlaan, you can find a petting zoo, greenhouses, the Kweekcafe, and many fun events. There is also a nature playground. A playground where children from about four years old can have a lot of fun. Everything on this playground comes from nature or is nature. Think of wooden play equipment, a water pump, and hideouts between the trees.
You can also go to Natuurspeeleiland near the Veerplas. Kids can play with pallets, rope, hay bales, and build shelters. You can also have a drink on the terrace of the Veerkwartier.
Keukenhof
A colorful day out at the Keukenhof. With over seven million flowering flower bulbs and 800 types of tulip.
The Keukenhof is also amazing for kids. They will have a great time with the free quest, a petting zoo, maze, and playground.
The Keukenhof is open from 21 March until 10 May 2020.